Thanksgiving Tablescape
Happy Thanksgiving eve.
Have your guests arrived yet?  Are you doing the last minute "guest clean"?  We all know "guest clean" vs. "normal clean" are a whole different story!
For a good month now, we've been seeing beautiful Thanksgiving tablescapes all over blog land.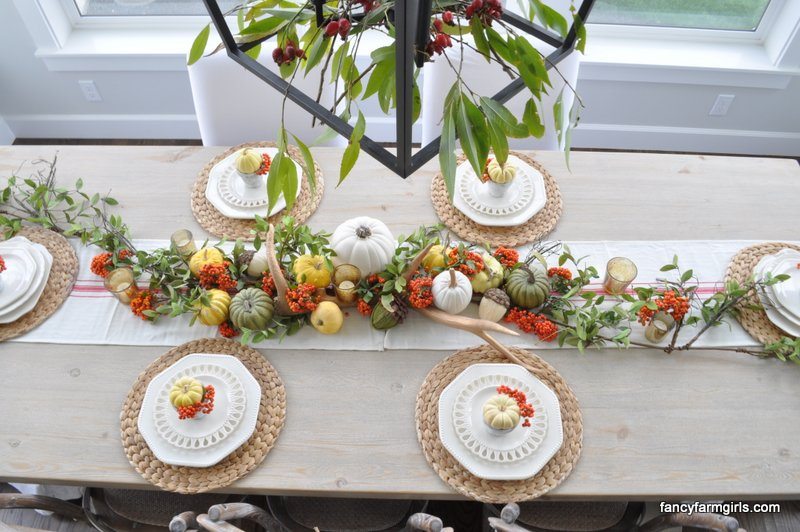 But over here, we've been busy just doing normal day to day busy.  Throw in company coming and some frantic last minute cleaning and anything beyond paper plates and the kids school pine cone turkey as our centerpiece is just a laughable dream!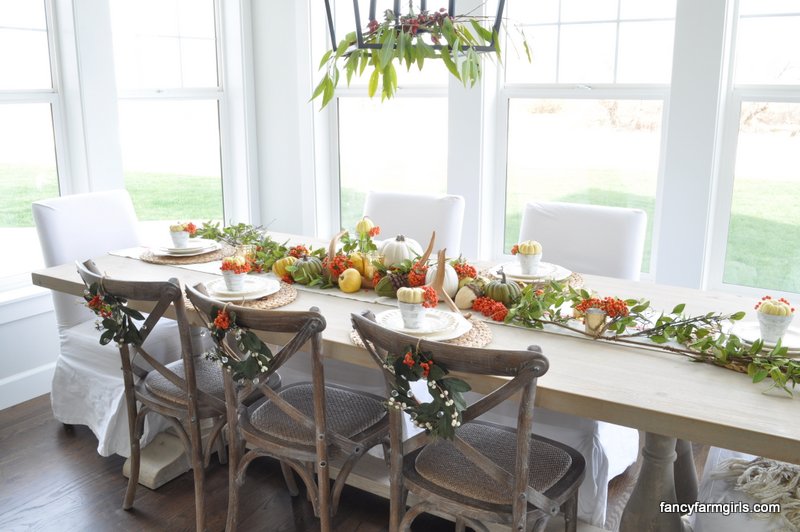 But before you throw up your hands, look outside! As we love to do in the fall for our home decor, we ventured outside and nature provided us with most everything we needed for a very last minute Thanksgiving tablescape. And we have to admit, it suddenly seems more special.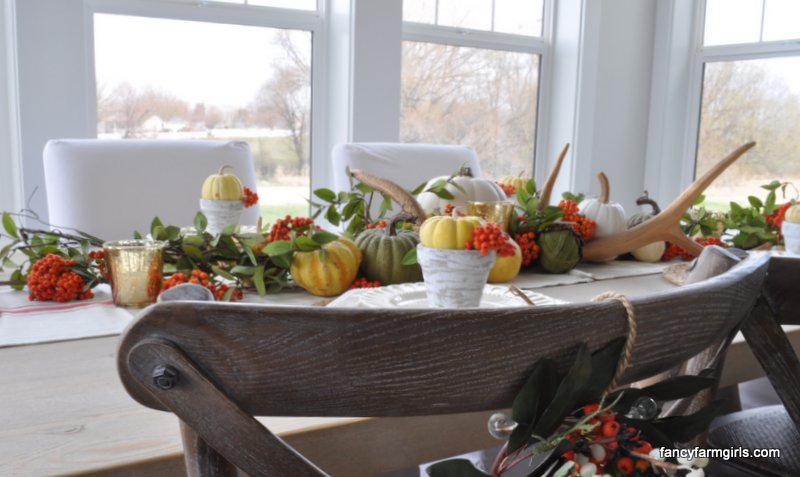 We dressed up the light with tree clippings and berries from the bushes. Will they be wilted by tomorrow?  Yes.
But they will have served their purpose by then and they were free and a two minute project and added a fun festive flair.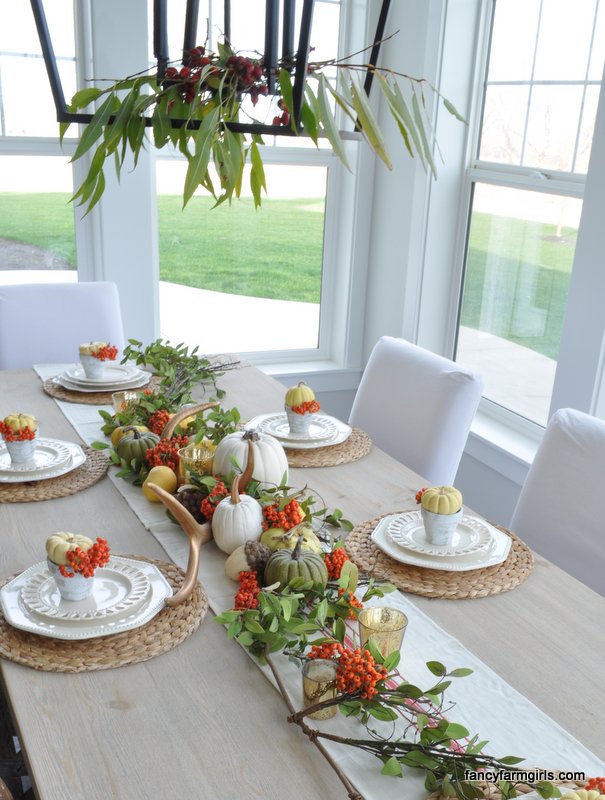 The Pumpkins have been around since Halloween and the orange berries came from the backyard bush.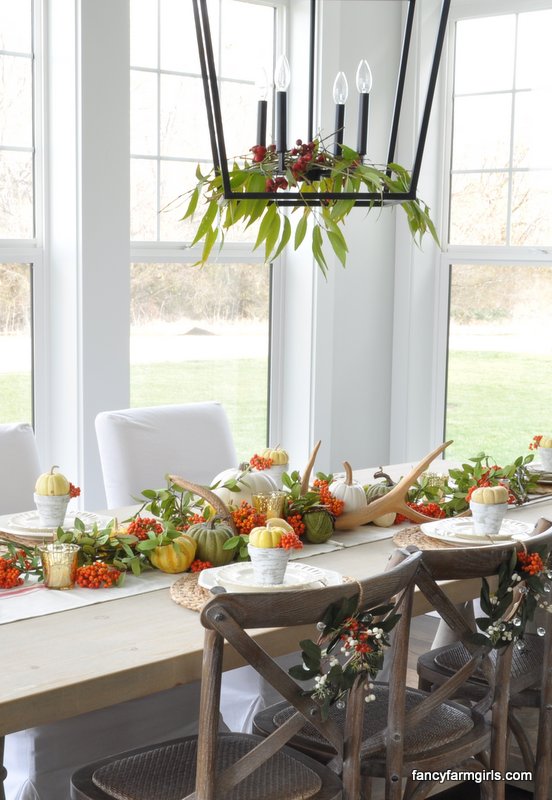 Add in some votives, an antler as the base to begin with and some greenery and Ta da! A last minute Thanksgiving centerpiece that looks anything but last minute.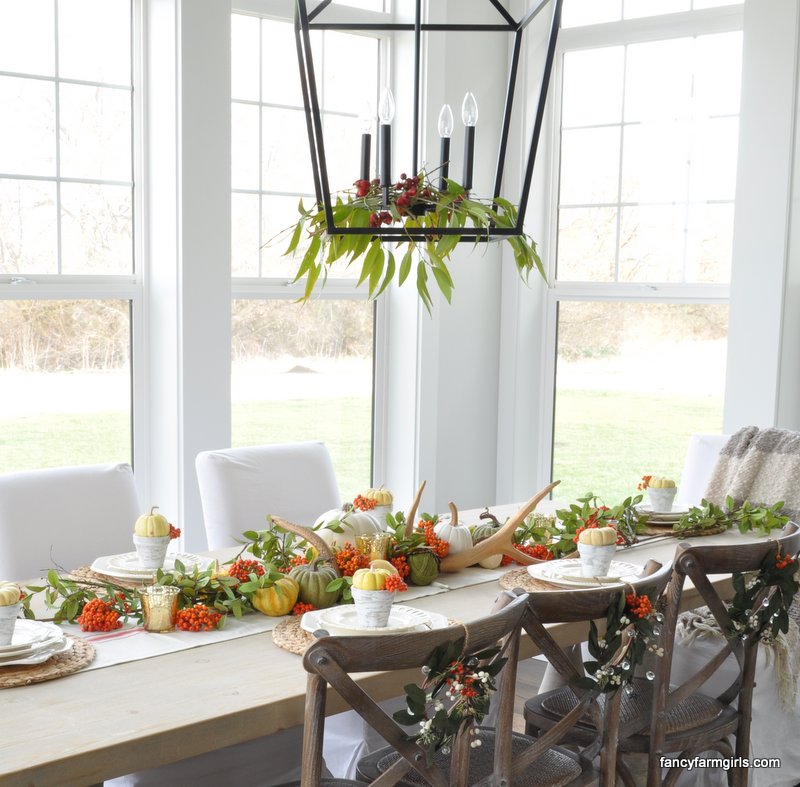 We tied three little wreaths to the back of the chairs and popped in a few more sprigs of berries.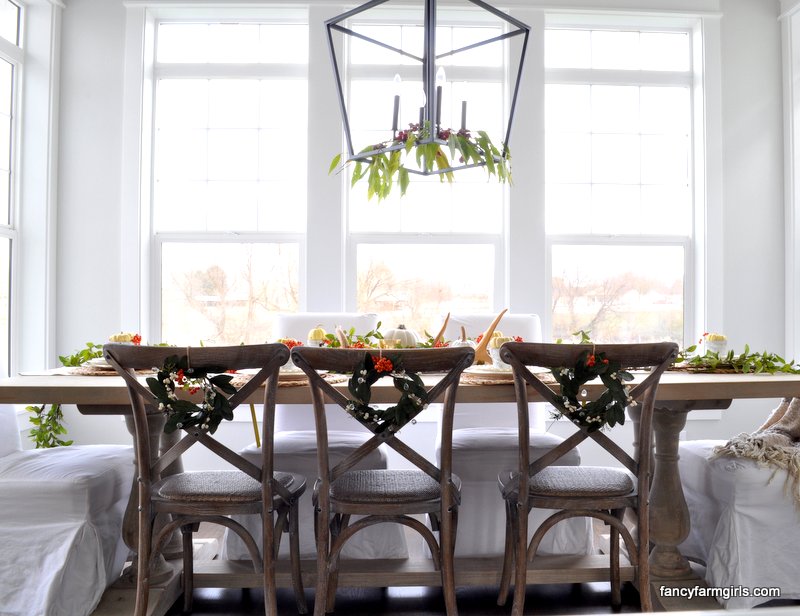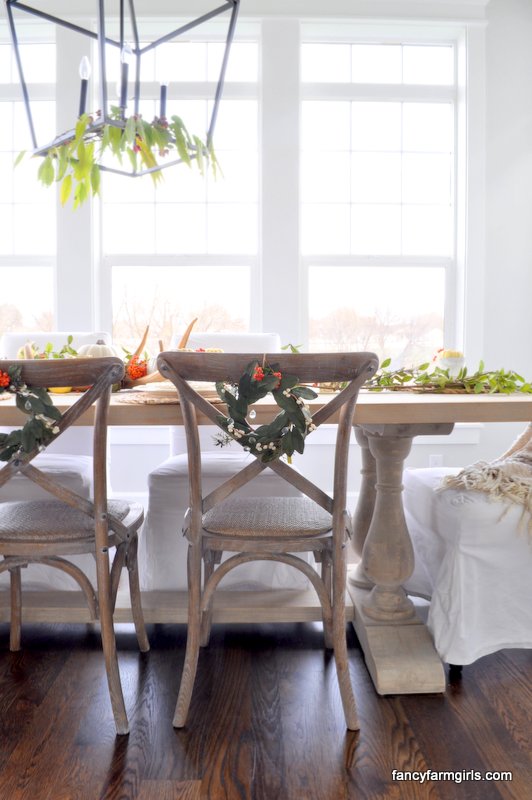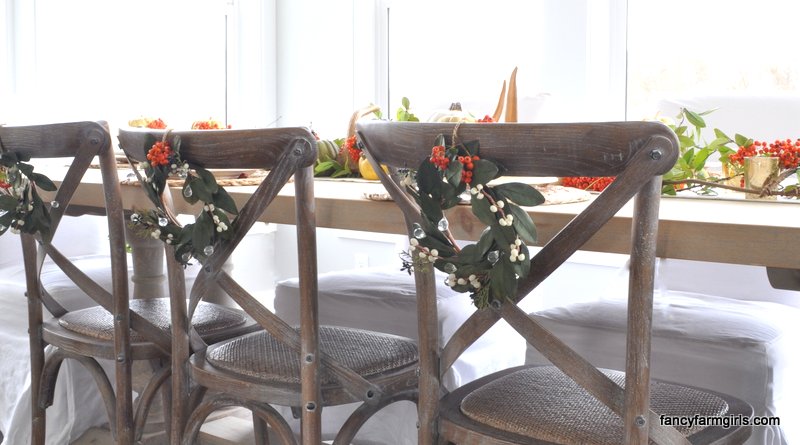 It's our second Thanksgiving in this home and were feeling, well……
grateful!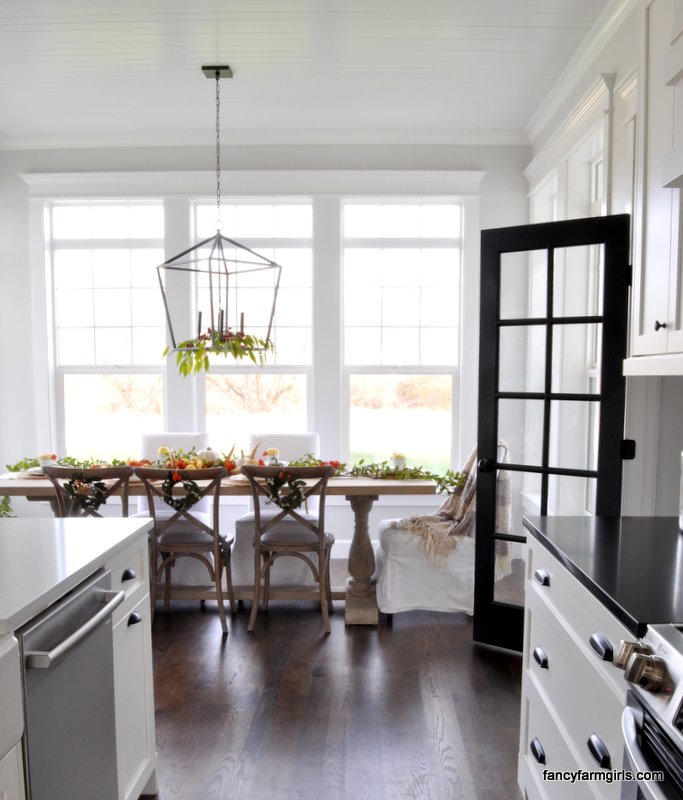 The theme of this centerpiece is, more is more! Start with a base of greenery, faux or real, sprinkle in a few candles or votives for a fun shimmer and then just add in pumpkins and berries.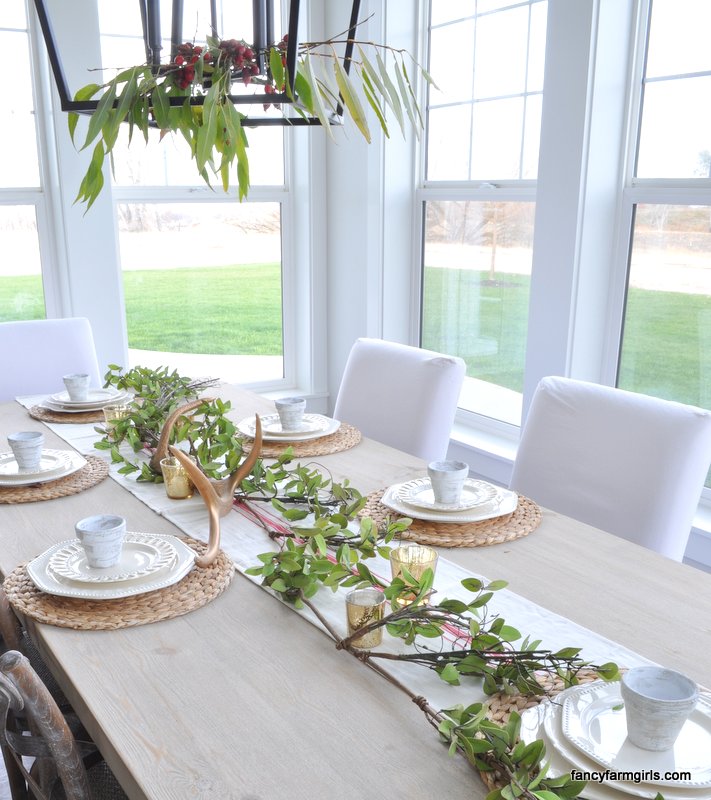 And you know the Christmas crazy starts tomorrow! So we wanted to show you how to use the same basic items and transition them easily into a Christmas table with just a few basic changes!
Here's the beginning framework we started with.  From this point you can easily transition between Thanksgiving and Christmas.
In place of the fresh greens we added evergreens.  We traded out the pumpkins for pinecones and red berries in place of the orange.  Chango – Presto!  Your table is ready for the next holiday!
Pots are just 99 cent terra cotta pots that were whitewashed.
So….if the turkeys taking longer to thaw than you thought and you have some stall time, run outdoors and take a few minutes to let nature make your table extra special.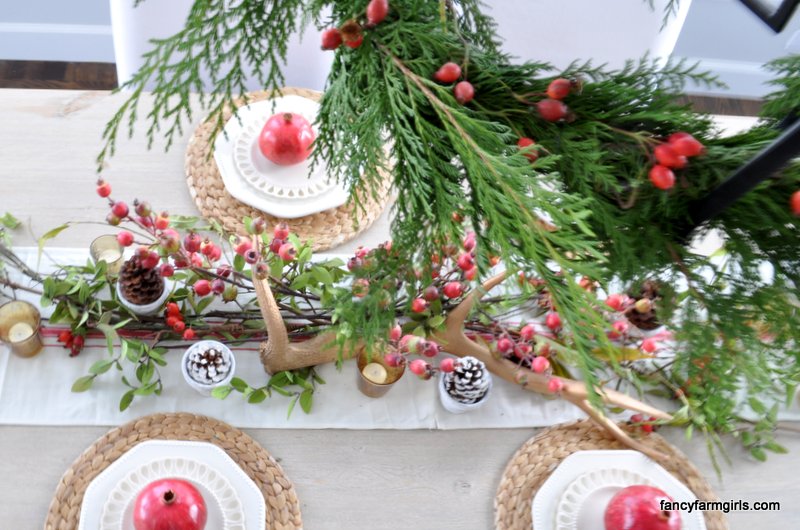 See past years fall kitchen tour of our last farmhouse HERE
Enjoy your blessings!  Enjoy your quirky family!  And enjoy celebrating this blessed country!