Hi all Welcome to summer!
We wanted to give a quick shoutout to Shutterfly for sharing our teen girls bedroom makeover  Here
And if you didnt see it the first time around at AllThingsThrifty  Well…we're sharing it here for the first time.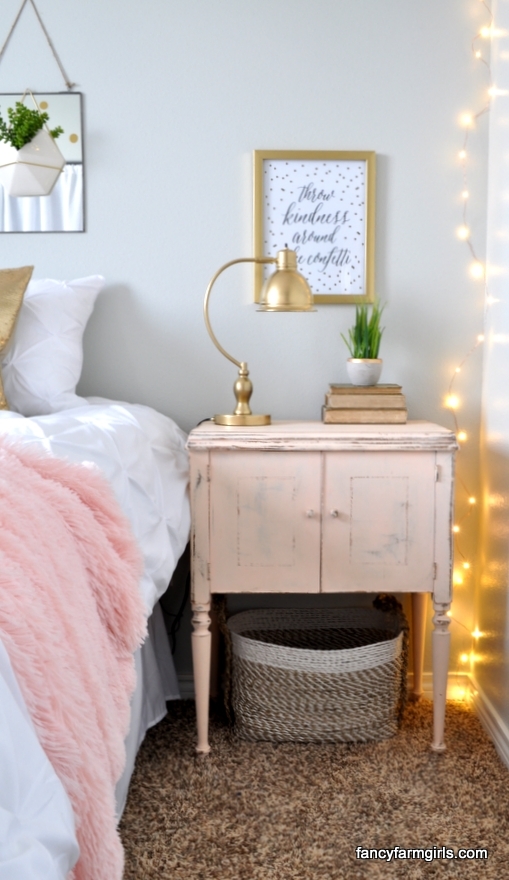 Lighter and brighter was once again the goal.
Which is a good starting point for updating most everything we touch. 🙂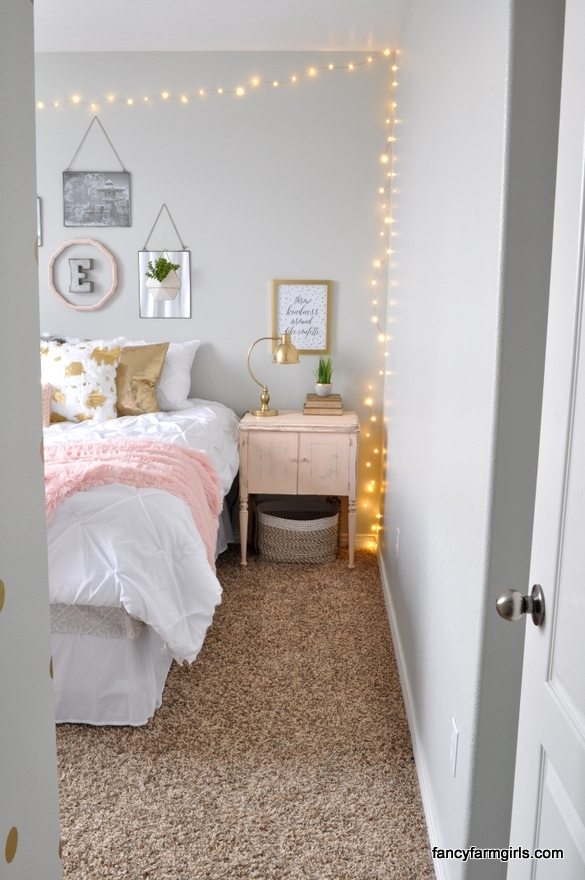 This is a basement bedroom so the walls needed to be lightened up.
Once again, bad, bad blogger with no "before" pics for you.
Picture a contractor handing a six year old a paint deck and letting her choose ANY color she wanted.
VERY bright blue it was!
We toned it down while still keeping it light using
Benjamin Moore "Gray Owl".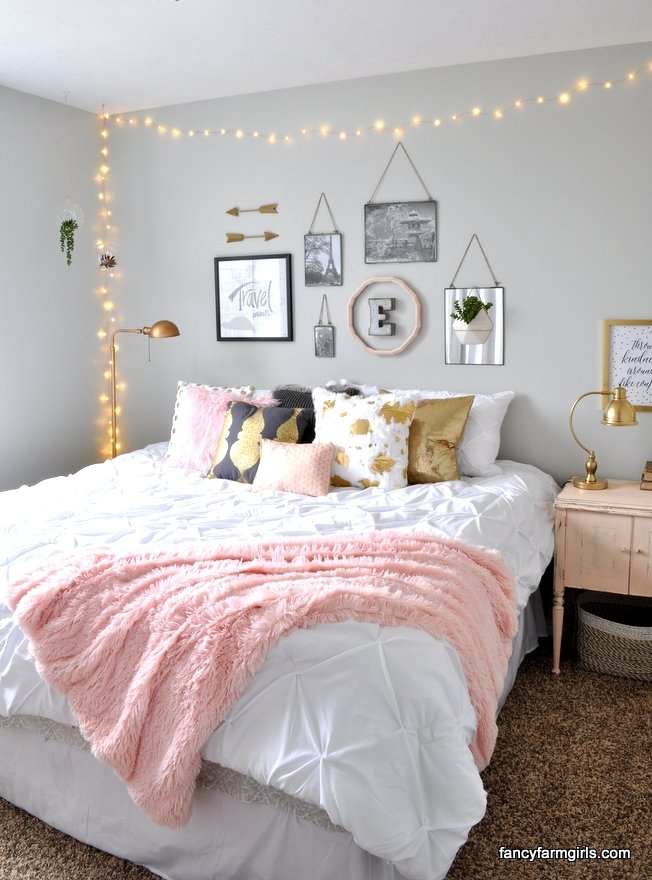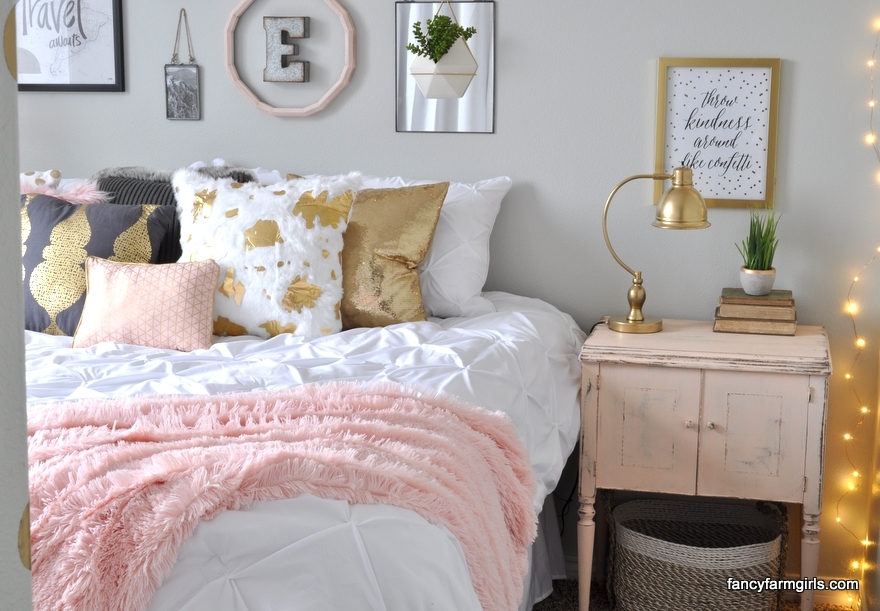 This six year old girl is now an opinionated 15 year old so we went round and round on this trying to both come out happy.
And in full disclosure, as soon as we were done taking the pics. she proceeded to take down several things claiming it looked
"too Fancyfarmgirl-ish"  Ha!
 #notafan
Her demands were:  travel pics, fairy lights and not too much pink.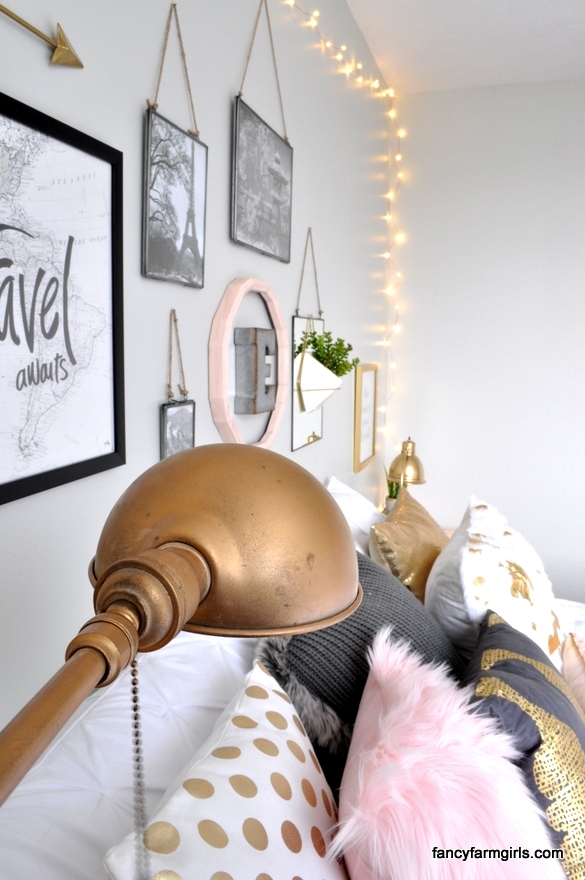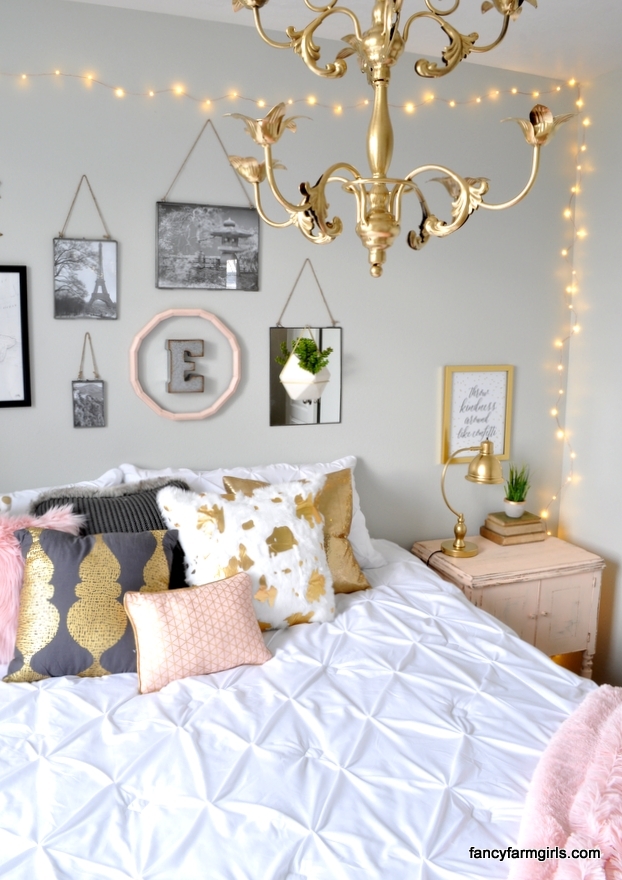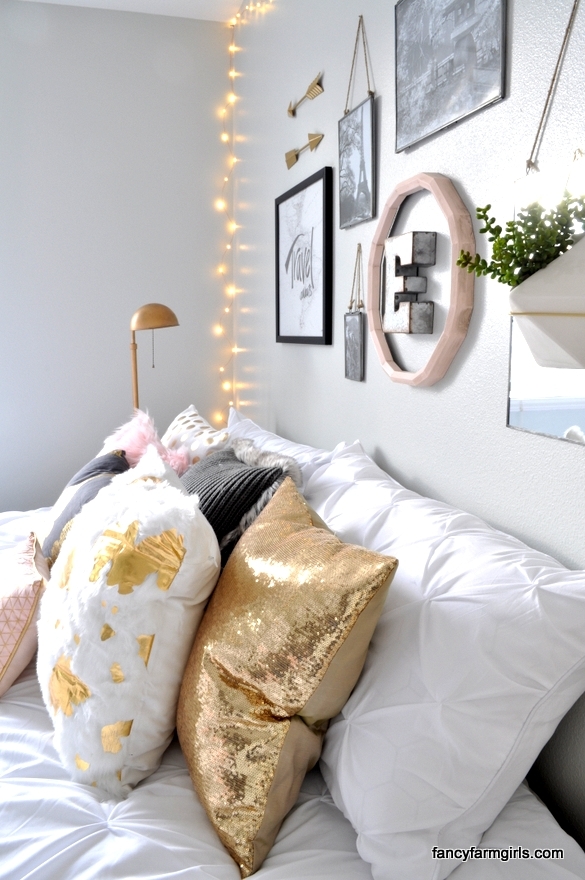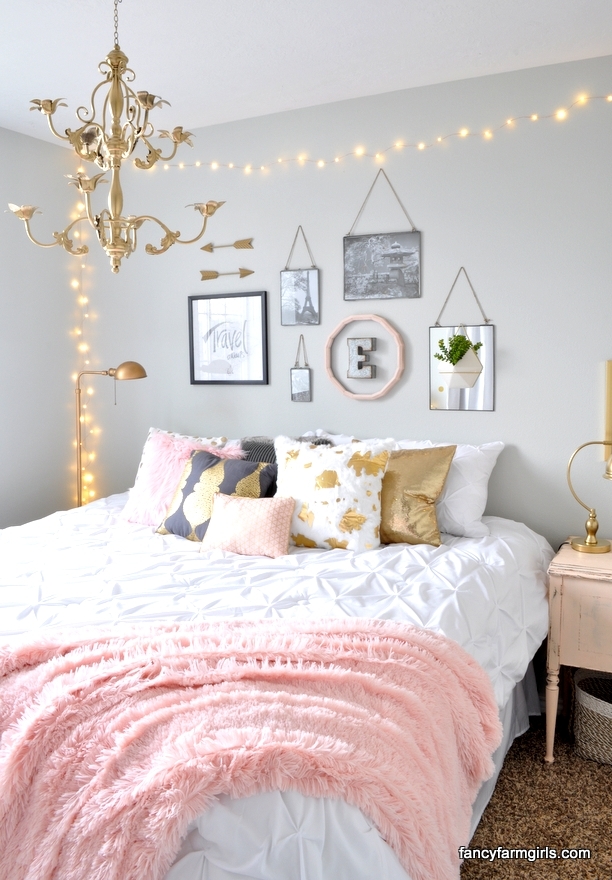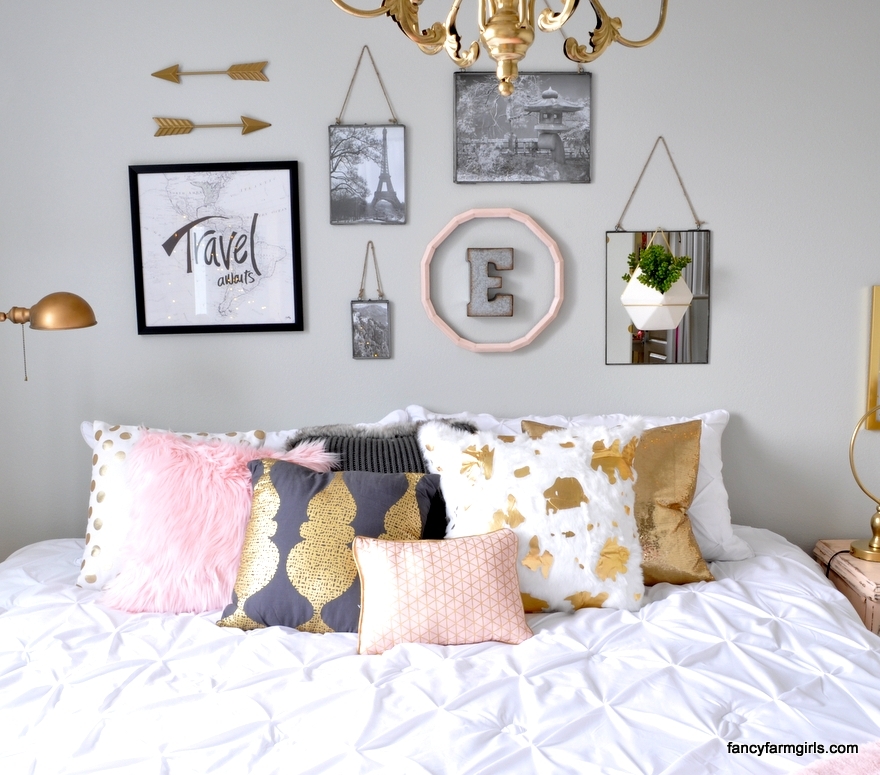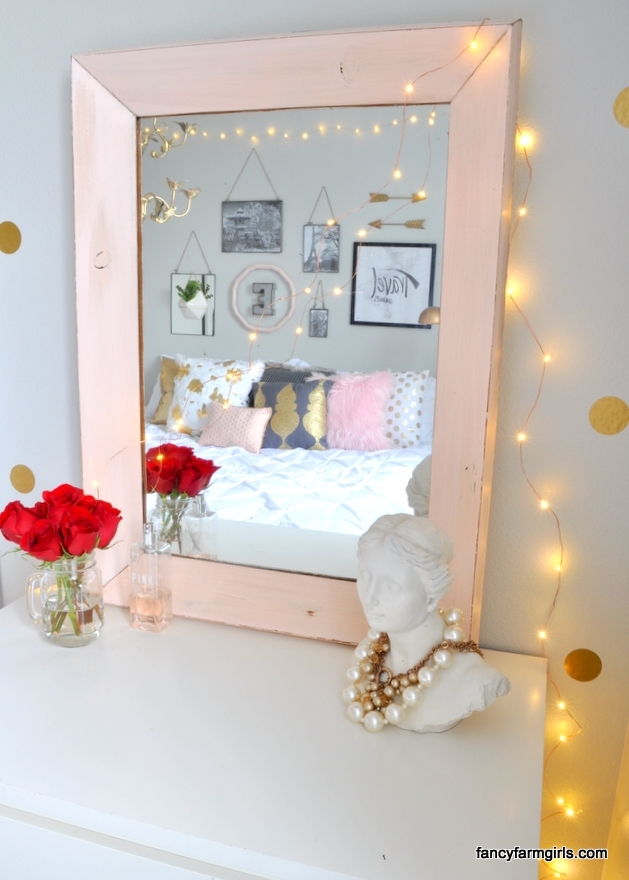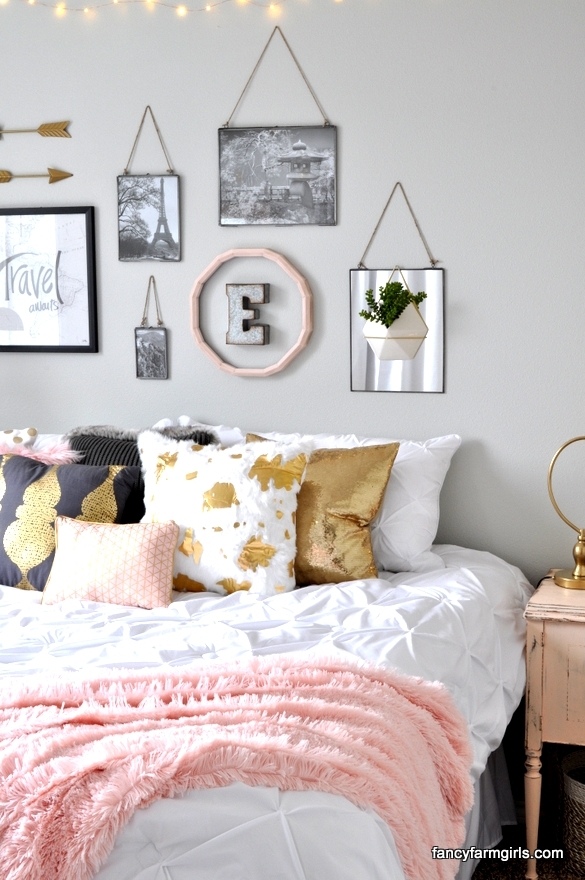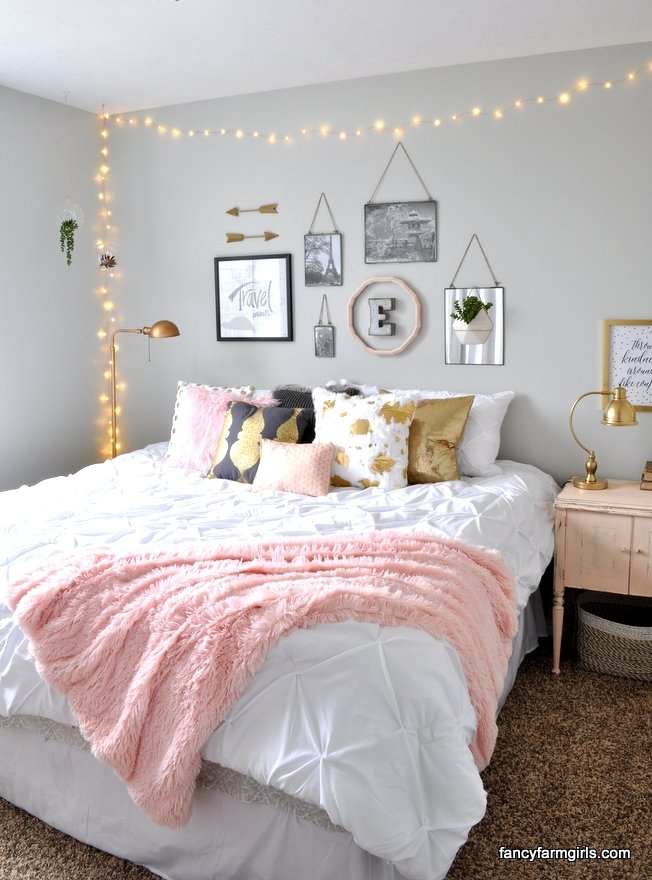 She's happy and this momma's happy and the pride in ownership is helping her keep it clean.
We call that a win, win!
Sponsored Post
Opinions 100% ours.
Our favorite room in our past home was little Ms. Avery's bedroom
We loved it, but as we ADD decorators do, we wanted a little change in her new room.
We saw these fun striped curtains  and brought them home to see if that's the direction we want to go.
The verdict is still out but we had a little fun trying out a few freshly painted pieces from our "stash" to see what look she liked.
Go with the traditional nightstand,
or,
The tall dresser drawers to help hide all the "stuff".
These both came from the local thrift store.
(excuse the grainy before pics)
70's wood veneer, but I liked the open shelf.
The globe came home as well because, well every globe does…… and I had an extra oil rubbed bronze pull that I knew could update the existing hardware.
We used Rust-Oleum chalked paint in Blush Pink found HERE because chalk paint equals zero prep work which equals happy us!
We sprayed the hardware using Rust-Oleum "Bright Metallic Gold" found HERE  and lined the drawer with a fun polka dot print.
The globe was painted white and gold as well to blend with the color scheme.
This guy was pretty simple and basic but I liked the narrow shape and the multiple drawers.
Again we used the "Blush Pink" and painted the existing hardware using the Rust-Oleum "Bright Metallic Gold" which also found it's way onto the stool.  Pink and gold together is always a good choice!
This abstract art was a fun little project that allows your kids to do their own abstract art.
We had some old canvases from a past art project.
Turn em lose with their favorite spray paint colors in all it's un-orderly randomness and the masterpiece is on it's way!
High end looking "abstract" art.
We used all Rust-Oleum products which can be found Here
or at your local Home Depot.
This is a sponsored post using Rust-Oleum products that we know you will love as much as we do!
Happy decorating!
It's begun!
 Yard sale season!
Woot! Woot!
Junk, bargains, one of a kind treasures.
It's a perfect mix.
We scored this cute little desk set for $15 bucks just this past weekend.
Two cans of spray paint and an hour later and the transformation is complete!
Bronze dipped legs and all!
Come see the colors and products we used and the complete transformation at
Order peel and stick wall dots HERE