Ice Cubes in My Nightstand!?
Hey Guys!  With Summer in full swing we wanted to revisit this fun Summer makeover!
It all started with a vintage sewing table:
We love these!
They are easy to find at thrift stores and they can be used in so many different areas of your home. They are perfect for nightstands, end tables, entry tables, porches, even sewing tables! Ha!
Ours is a conservative nightstand by day:
and can be busted out for party time at night!
The transformation is quick and easy.
Begin by removing the sewing machine from table.
Ours was just a matter of removing two hinges in the back.  Then fill in those spots with wood filler and a little touch up paint.  You now have yourself an empty hole.
 Instead of making the hole fit the Tupperware, we found some Tupperware that fit the hole… almost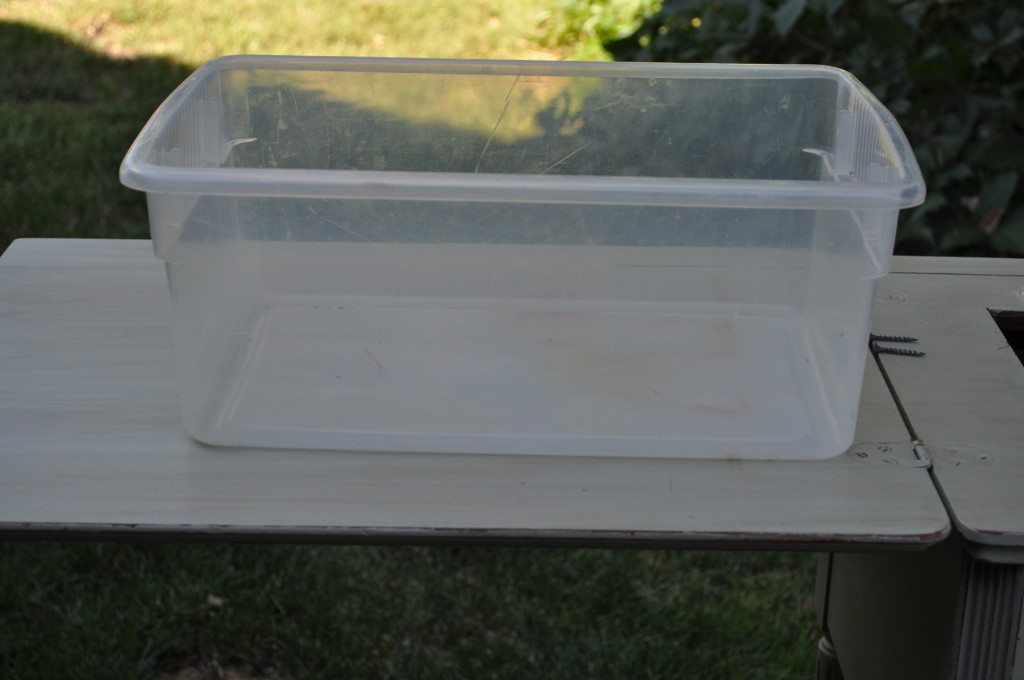 We did have to use a hand saw to trim down one edge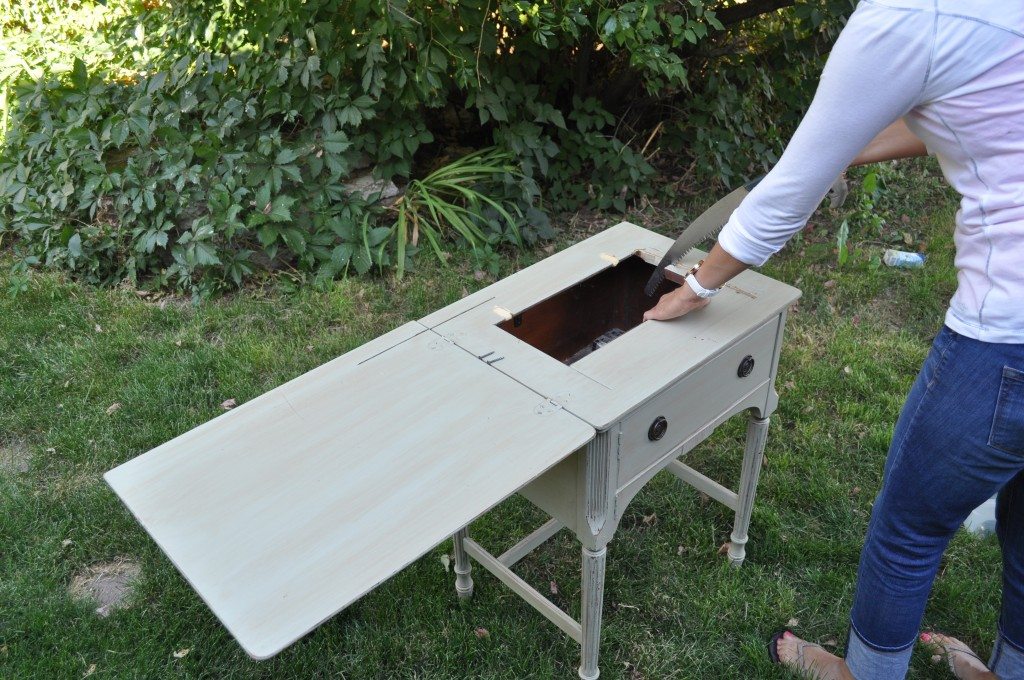 Easy stuff.  No power tools required.
Insert the Tupperware so it's a snug fit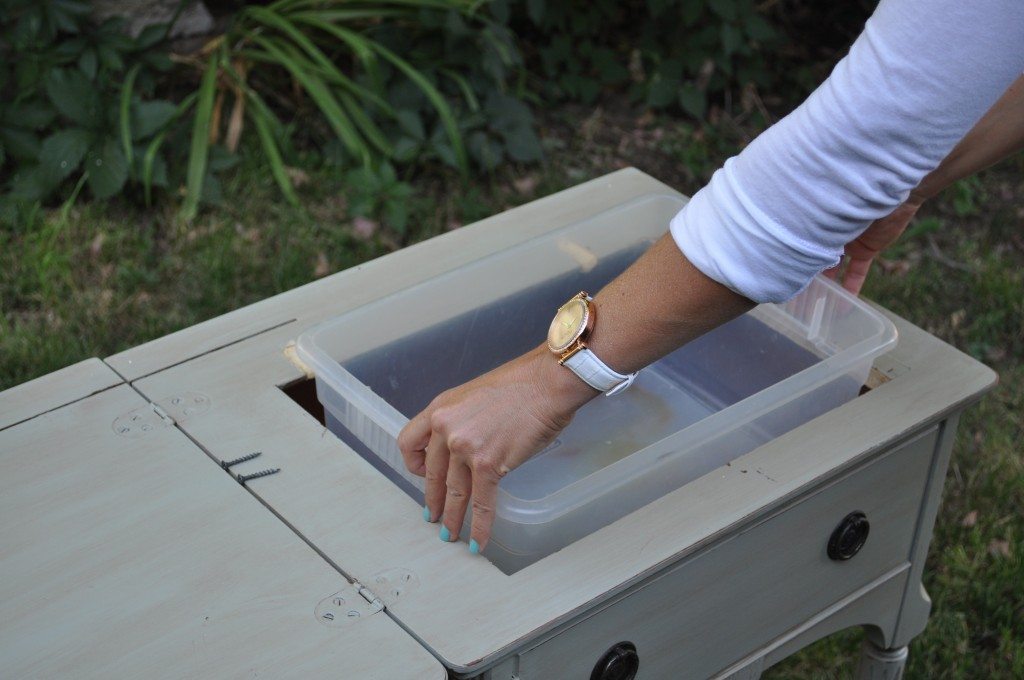 and attach it to the edges of your cut out with several screws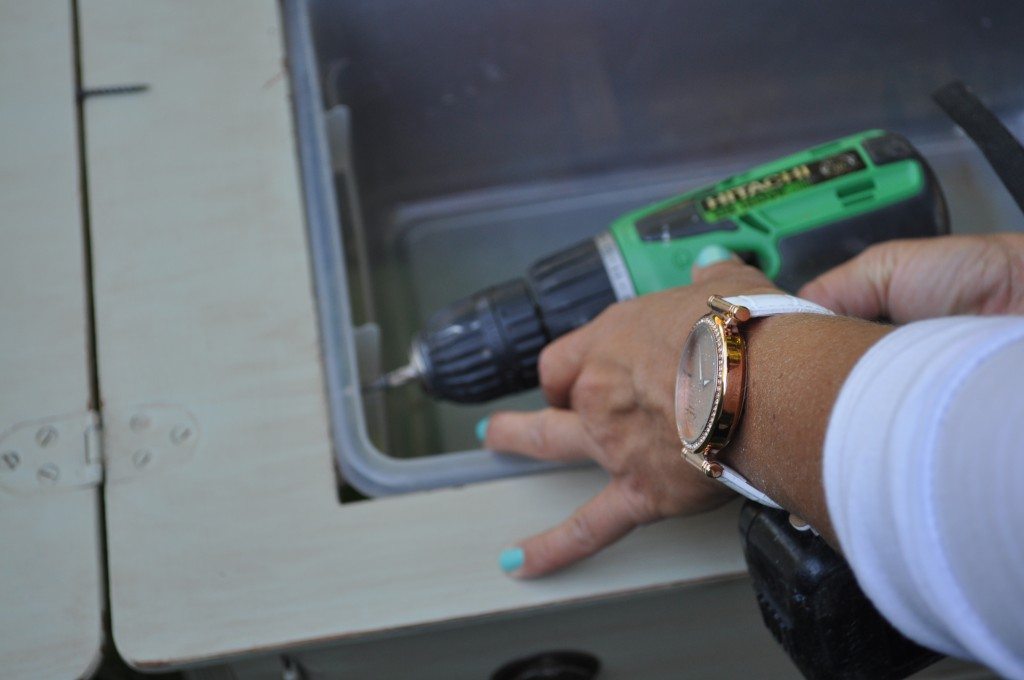 Make sure the edge of your Tupperware sits just below or flush with your table surface so you are able to close it completely.
Now fill it up with ice…
and Ta-da!  You have yourself  a one of a kind, very cute and functional drink stand
Isn't she cute!
Once the party's over, you empty out the ice and you've got your nightstand back
We love the functionality of the bin for a nightstand as well.
Extra storage for those good reads you'll get to "someday".
So find yourself a  vintage sewing table and
go from a nightstand…
To a quick drink stand!
It's portable enough for your kids lemonade stand in the neighborhood.
We'd love to see your other fun furniture upcycles!
Thanks for letting us share this fun little makeover with you!