Our Favorite Paint Supplies!
We've had people ask us before, where our studio is?
Studio?
Huh???
We crank out a lot of furniture and projects, so people mistakenly assume we have some shop or studio somewhere.
Nope.
 Not.  At.  All.
Our husbands are the only ones laughing more than we are at the question. We're fumbling through our messy, overcrowded garage like the majority of y'all.
We thought we'd give you a quick rundown of the basic supplies needed to begin revamping that furniture that may be tired and dated.
 A few basic supplies and your on your way to redoing furniture that will have your friends wondering where your studio is.
First up:  The brush
You get what you pay for. I'm the girl buying the knock off brand any chance I get, but on the brush, bite the bullet.  Shell out the $13 instead of the $6 and you'll be happy you did.  And if you just want one.  A two inch angled is our fav!  Great for furniture and home projects.
Treat it well and it'll last foreva!
This guy:
$70 bucks and worth it!  Makes for fast and effective sanding.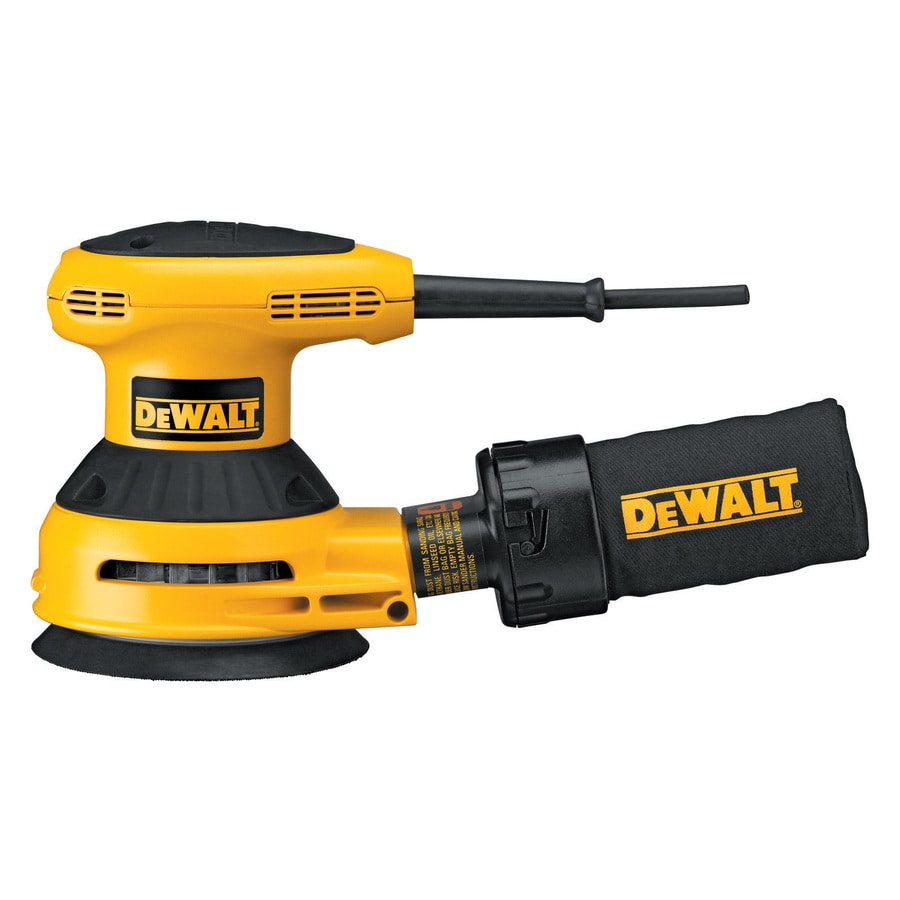 But wait.  Do you need a $70 dollar sander to redo your ten dollar garage sale desk?
No ma'am!
Good ol' sandpaper.  So simple.  So cheap.
And I went two years redoing furniture using this and only this before I upgraded to an electric sander.  So, yes, you can get along just fine using this.  Just a bit more elbow grease required.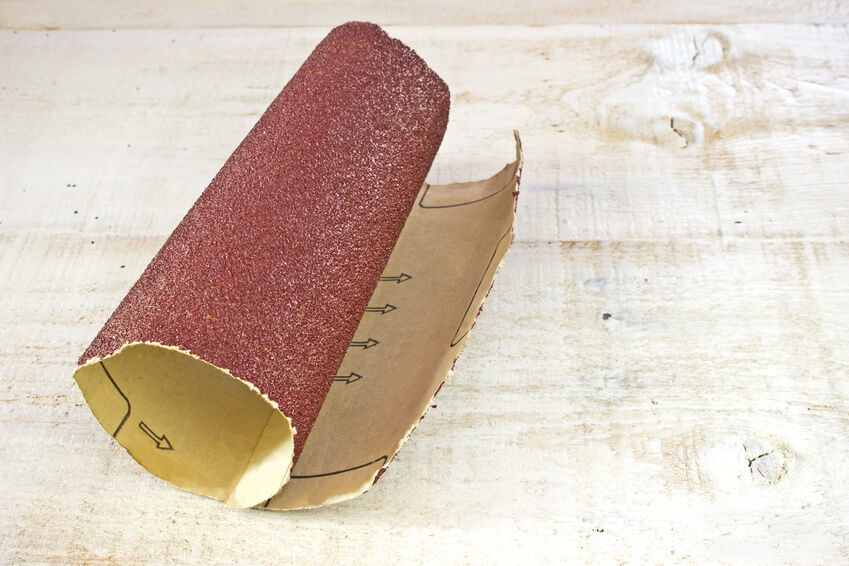 Next up,
Wipe on Poly.  Key words being "wipe on".
So fast. So easy.  So durable. Protects your furniture like a charm.
 Use these guys on big pieces for an ultra smooth finish.
 No worries of having brush strokes.  We usually use these on the flat areas of furniture and the brushes for the corners and detail areas.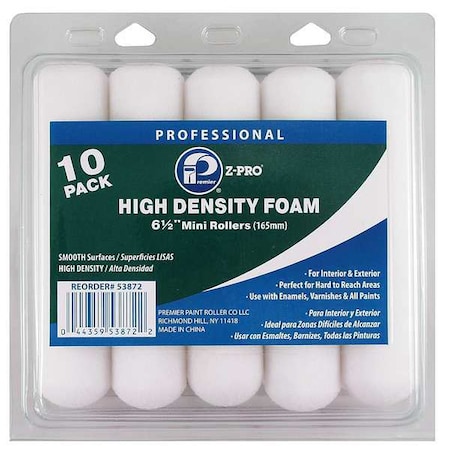 And of course paint.
Chalk, milk, latex, enamel, oil, water based,….
Are you getting overwhelmed?
Don't!  Paint is paint (kinda).
Yes, there's different types and different things we love and dislike about each but we are anything but paint snobs.
 Most of our paint comes from yard sales, the local ReStore, friends that know we'll get rid of their old paint sitting around, etc.
Different types of paint is another discussion for another day.
Just grab that paint brush, don't overthink it, and paint.
Here's a sampling of some of our pieces that have passed through the Fancy Farmgirl shop, otherwise known as the garage/abyss.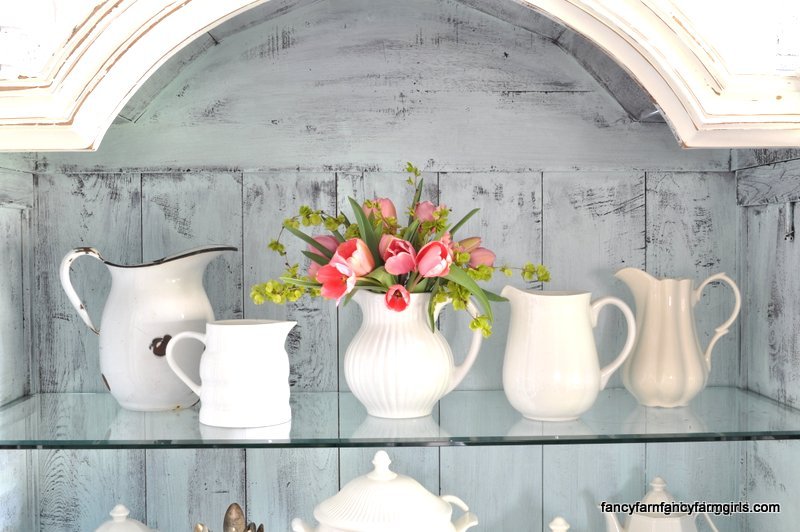 One of our favorites for sure.
 We watered down the blue paint and gave it a sloppy whitewash effect using a brush.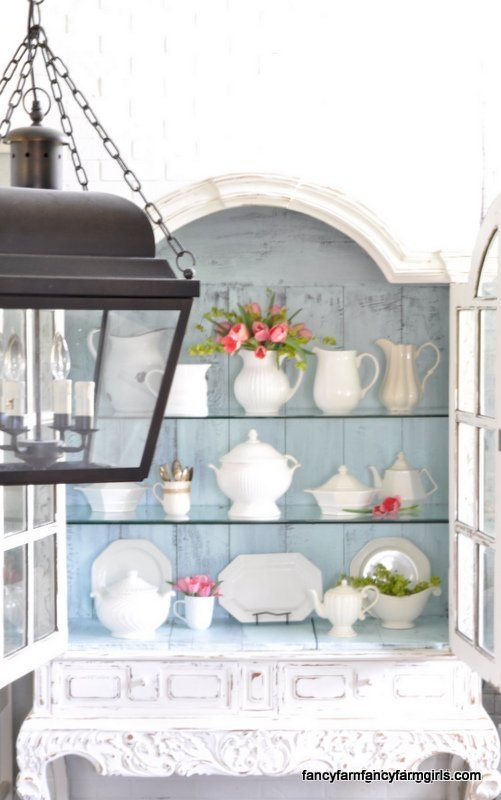 The outside was done with a brush as well as followed by a good sanding.  See that makeover
This one was done using mostly a foam roller with a brush to do the smaller detailed areas.  See Clock tutorial
Aw, and let us not forget spray paint.
 Our love runs deep!  ZERO supplies needed.
See the brands we love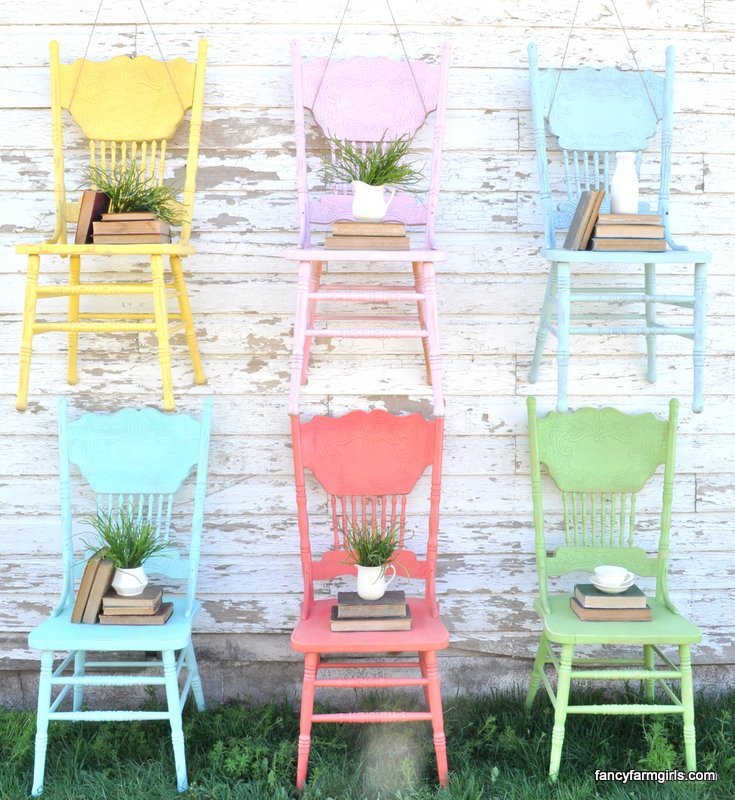 Spray paint is especially great for projects with lots of angles and curves such as the spindles and legs on all these chairs.
This buffet was a combination of spray paint and rolled on paint.  Doing the inside of open shelving can be a bit tedious, so I sprayed the open cubbies as well as the legs and then rolled the remainder.
Love how this one distressed.
The cute knob:  It's hot glued on there. 😉  Long live the hot glue gun!
This little guy made its debut on the CountryLiving website a couple of years ago!
This buffet recently spent two days being blush pink for my daughters wedding we did and then got painted white again.
And this coral dresser is one of our most asked about colors.
We give you all the details HERE.
These are easy projects that require minimal supplies.  No more excuses for old dated furniture.
Instant updates happen with paint!