Hey Guys!
We reached out to you on Instagram a couple of weeks ago to get your vote on which blue to paint our office.
You guys blew us away with all your comments! It was by far our most commented on post.
You guys are opinionated about your paints 🙂 and so are we, so  we wanted to share a few of our favorite bold blue paints
that are super hot in home decor right now.
For us it came down to two contenders…
We present the ever popular Benjamin Moore Hale Navy on your left and Benjamin Moore Blue Note on your right.
Hale Navy came out on top from you guys on Instagram but anyone who saw the swatches in person, it was 100% BM Blue Note every time.
You cant go wrong with either.
Hale Navy comes out a beautiful deep "true" Navy while Blue Note has some more green and gray to it.
It just felt a lot more moody and I loved that it was a mix of colors.
They're both beautiful.
This room went from light and airy to…
Drama!
In the end, Blue Note came out on top!
Isn't it gorgeous!
I cant get over the drama this room took on with a $30 gallon of paint!
While I want the majority of my house to be light and bright, every home could use a room or focal wall with a fun bold color.
We've collected a few of our favorites from the web if you're on the hunt for just the right blue.
Check out  Classy Clutters amazing Master bedroom accent wall!
They used Behr paint in this fun Wanderlust color.
STUDIO MCGEE  a favorite resource of mine for paint and design
used BM Royal Blue in their Midway Home Office HERE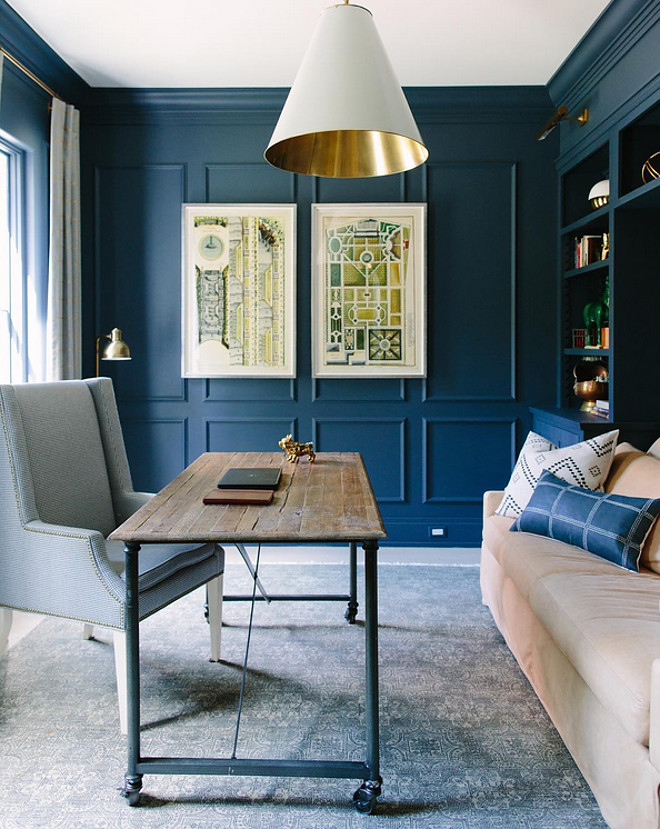 The final picture that sealed the deal for me was this office I spotted on Instagram at Kate Marker Interiors HERE
Isn't it gorgeous!  She used BM Blue Note 
Below is the ever popular Hale Navy.
Remodelaholic shared a color spotlight on hale Navy HERE where we found this home office decked out in Hale Navy
Transitional Home Office by Minneapolis Home Builders City Homes Design and Build, LLC
and Jen over at Migonis Home shared Used Hale Navy in  her recent office makeover HERE
We hope that helps you take the leap to add a little drama somewhere in your home,
and if Blue is the route you're going, here's a few proven winners to get you started.
Hey Guys!  A few weeks ago we shared our boys bedroom makeover HERE
AND our new plan for tackling the clutter and mess in 2017!
January and February have  been the months of taking back control of this house!
We've got to take advantage of the momentum while we've got it, so Marg recently redid her
Girls Bedroom.  We're sharing the full  Makeover  @ All Things Thrifty HERE
It's come a long way from a dark basement bedroom to this fun bright teens room.
Stop by and see the full reveal HERE! 
Thrifting can be so fun, but also a curse.
For example:
Exhibit A:
One very ratty tatty dresser that was showing a lot of "tough love."
But… it was built solid and the drawers worked well, so home it HAD to come.
Exhibit B:
One plastic faux wood mirror.
But…the shape is perfect, so home it HAD to come.
Exhibit C:
One cheap lightweight plastic stool.
But…you always need an extra surface, so, yep, home it came.
It's hard to picture what they COULD be and walk away,
so…..we don't!  We hoard!
But check it out!
It's glam and bold and anything but ratty tatty!
And because were indecisive hoarders, she migrated from room to room to see if we wanted the crispness of a white background,
Or the moodiness of a blue background.
The weather is warming up just enough that we can do our favorite method of painting.
Spray paint!
 In one afternoon we were able to transform all these pieces for the cost of a few cans of paint.
#winning
Want to know our hands down FAVORITE brand and the colors we used?  We'd love for you to check out all the projects from a group of bloggers and VOTE on who used the color best!
Come on!  This voting is waaaay funner than that last voting episode! 😉
A group of bloggers was sent a "mystery box" of identical items to be used as we like in a Bloggers Challenge.  Come see how we all did!   We'd be forever grateful if you'd take a minute to create a quick account to see the remaining "mystery projects" and VOTE!
Make Furniture Great Again!