Happy Thanksgiving eve.
Have your guests arrived yet?  Are you doing the last minute "guest clean"?  We all know "guest clean" vs. "normal clean" are a whole different story!
For a good month now, we've been seeing beautiful Thanksgiving tablescapes all over blog land.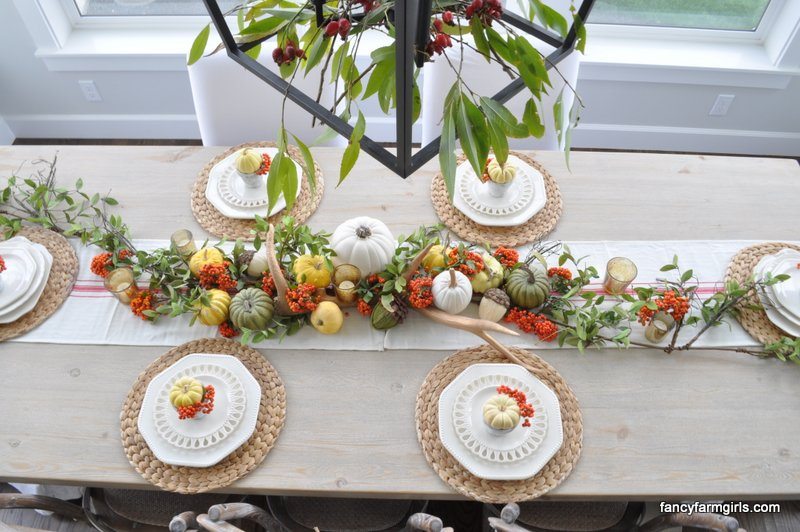 But over here, we've been busy just doing normal day to day busy.  Throw in company coming and some frantic last minute cleaning and anything beyond paper plates and the kids school pine cone turkey as our centerpiece is just a laughable dream!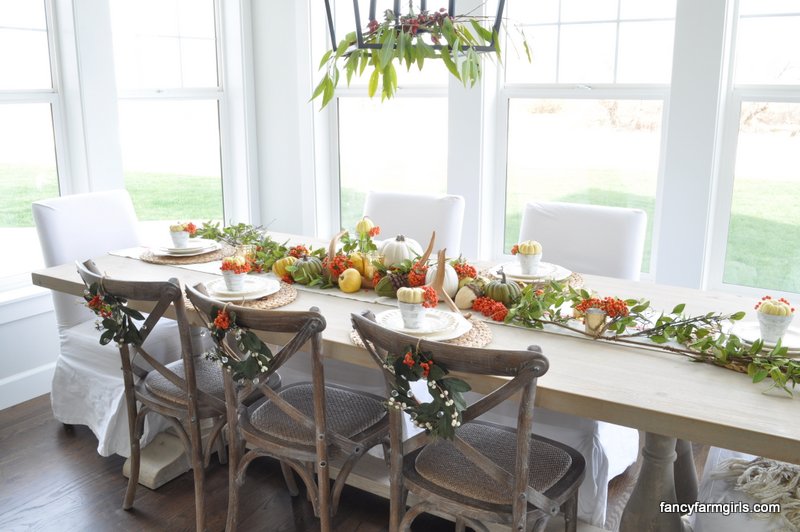 But before you throw up your hands, look outside! As we love to do in the fall for our home decor, we ventured outside and nature provided us with most everything we needed for a very last minute Thanksgiving tablescape. And we have to admit, it suddenly seems more special.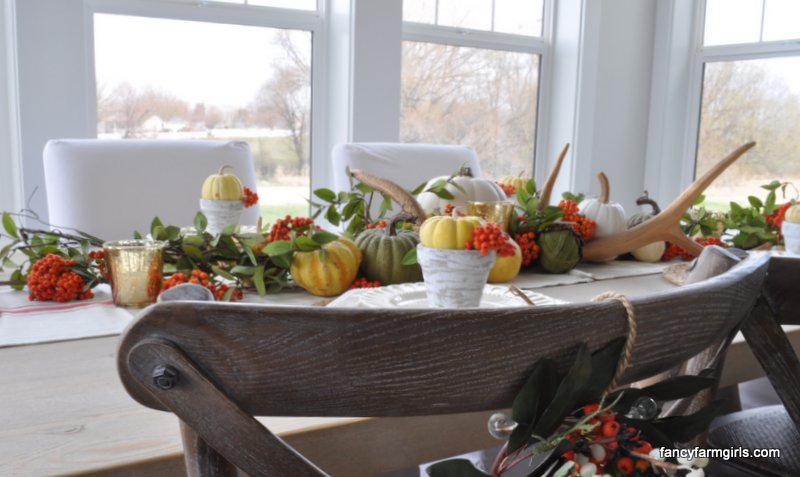 We dressed up the light with tree clippings and berries from the bushes. Will they be wilted by tomorrow?  Yes.
But they will have served their purpose by then and they were free and a two minute project and added a fun festive flair.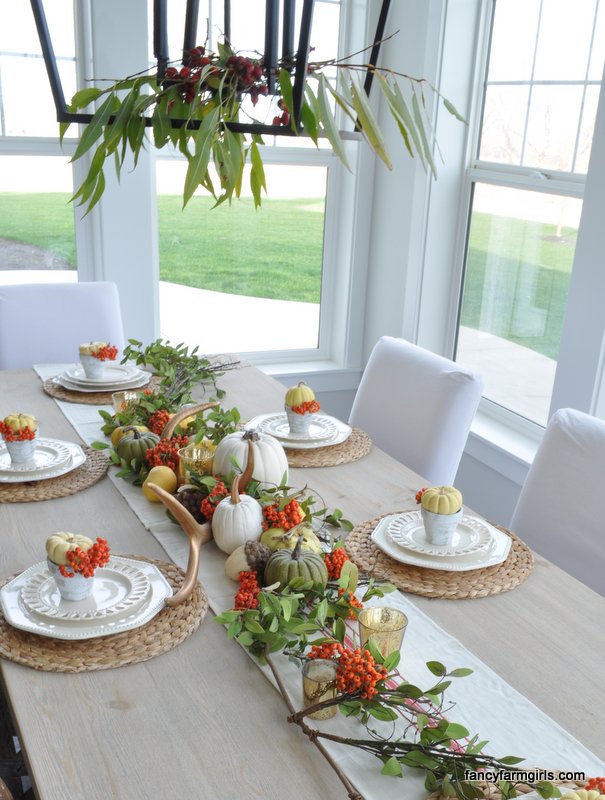 The Pumpkins have been around since Halloween and the orange berries came from the backyard bush.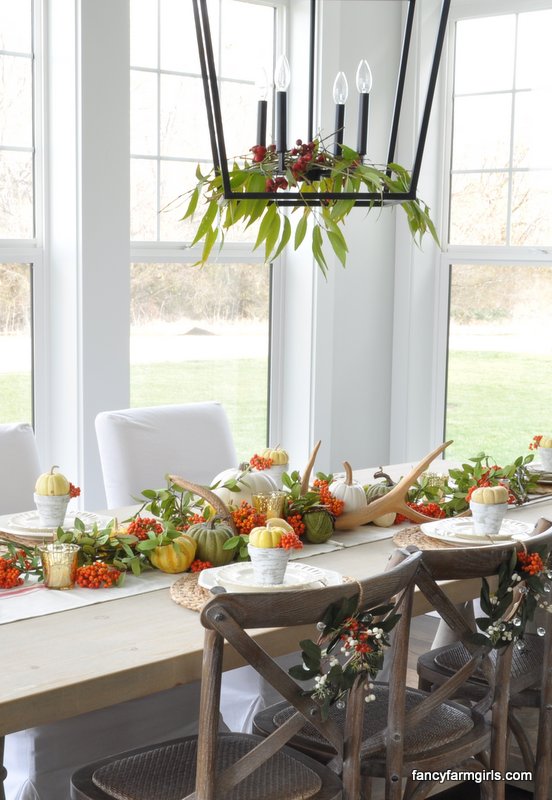 Add in some votives, an antler as the base to begin with and some greenery and Ta da! A last minute Thanksgiving centerpiece that looks anything but last minute.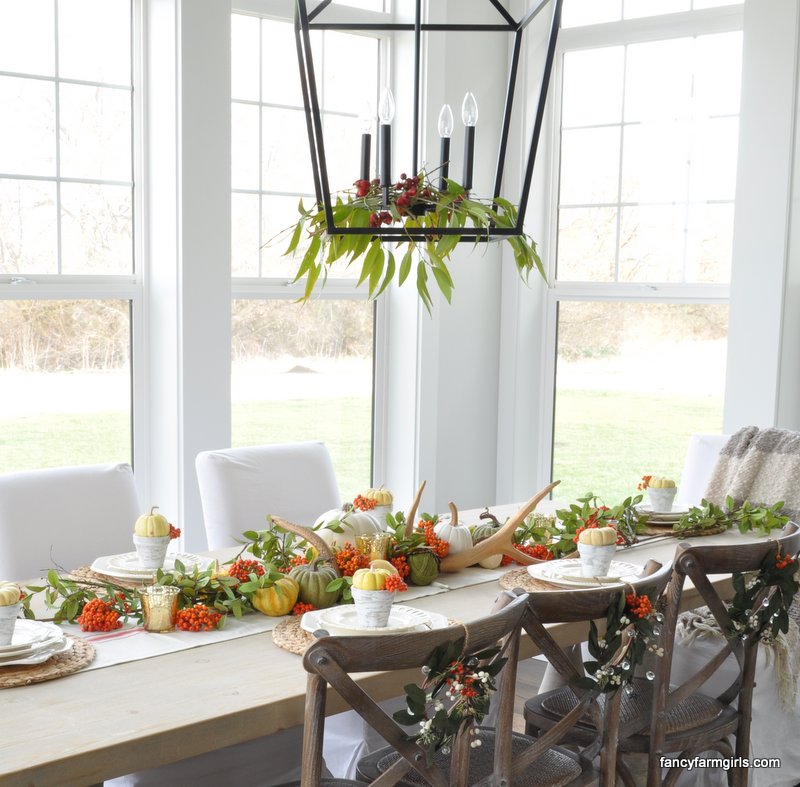 We tied three little wreaths to the back of the chairs and popped in a few more sprigs of berries.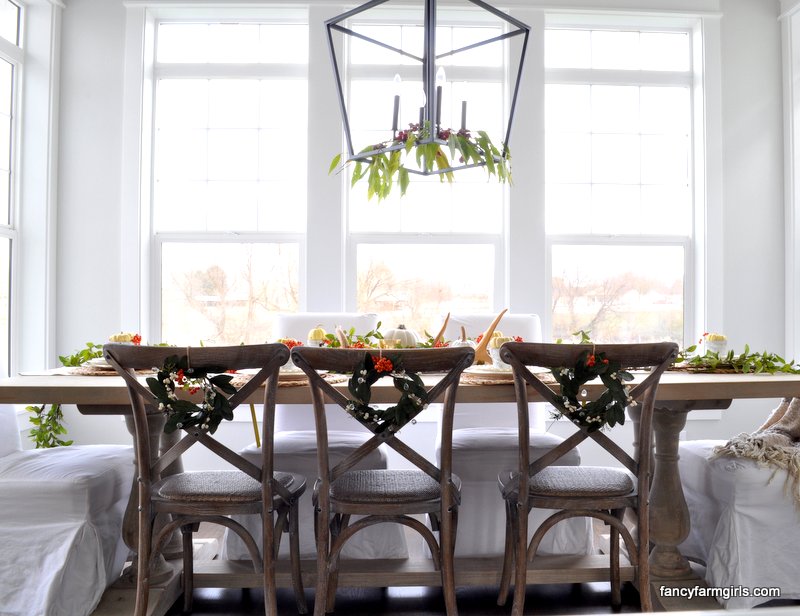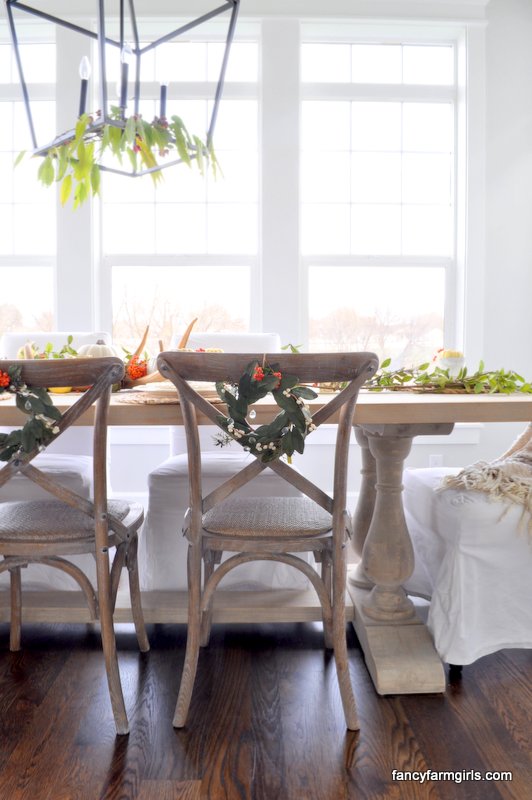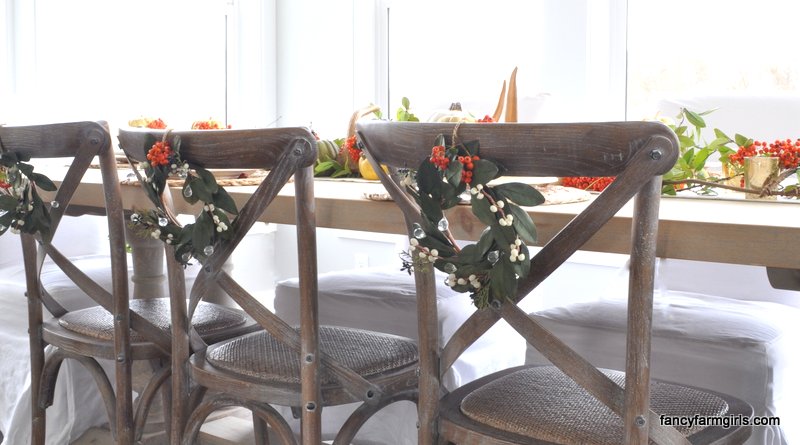 It's our second Thanksgiving in this home and were feeling, well……
grateful!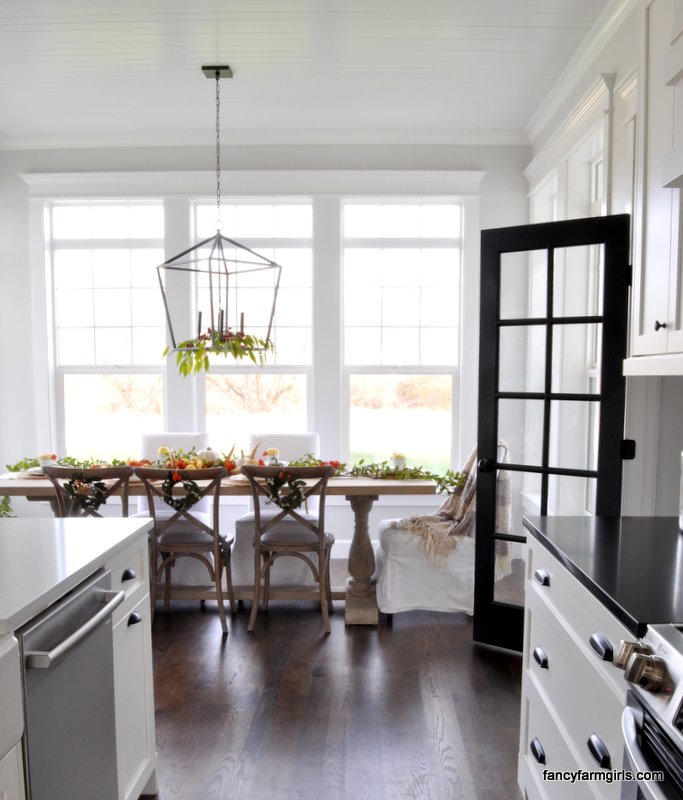 The theme of this centerpiece is, more is more! Start with a base of greenery, faux or real, sprinkle in a few candles or votives for a fun shimmer and then just add in pumpkins and berries.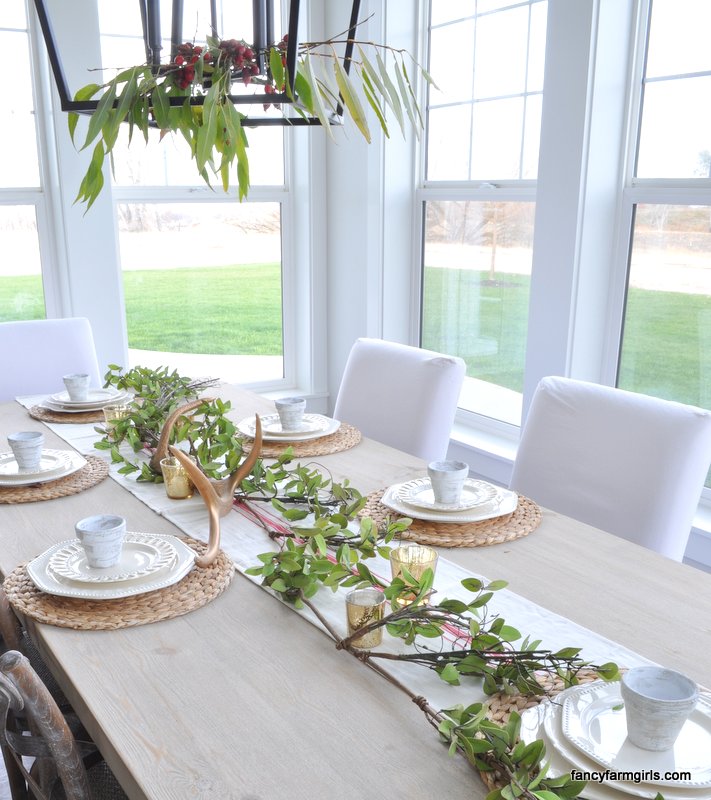 Here's the beginning framework we started with.  Pots are just 99 cent terra cotta pots that were whitewashed.
So….if the turkeys taking longer to thaw than you thought and you have some stall time, run outdoors and take a few minutes to let nature make your table extra special.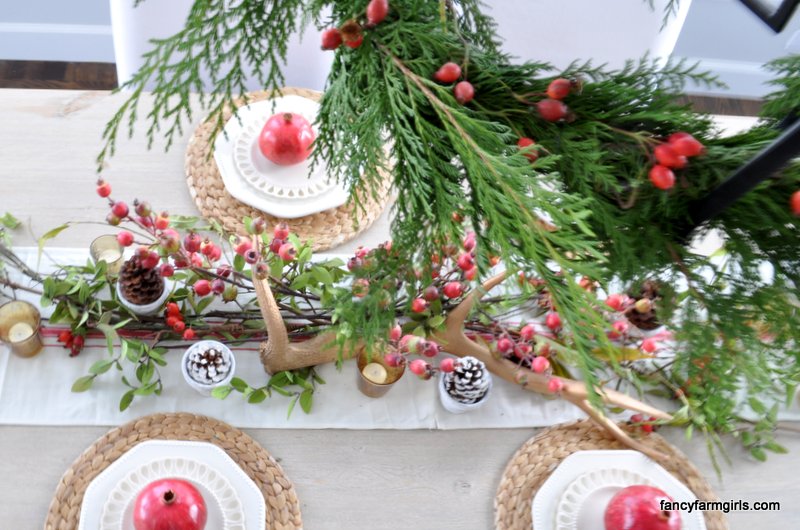 And you know the Christmas crazy starts tomorrow! So we'll come back and show you how to use the same basic items and transition them easily into a Christmas table with just a few basic changes!
See past years fall kitchen tour of our last farmhouse HERE
Enjoy your blessings!  Enjoy your quirky family!  And enjoy celebrating this blessed country!
Sponsored post
We've been in our home for 15 years.  (Marg speaking)  For a good five of those years we've been bossing people around to paint all the things!
 Meanwhile, back at the farm…….
I've been failing to practice what I preach!
I'm like the landscaper who sports the worst yard in the neighborhood!
The Before:
Anyone remember the hot color of the year for 2001?
It was "Crisp Khaki",
otherwise known as, a sea of beige.
We finally practiced what we preached and painted all the things!
2 gallons of paint later and it's already so much lighter and brighter.
We took the cupboards from a very creamy dated yellow to "Dover White".   It reads white but has enough cream to match with my cream/bisque appliances.
Wall color is,  "Edgecomb Gray".  I steered clear of this color at first because I was looking for a griege color and the "gray" in the name scared me off and led me to believe it would be too gray.  However, thanks to the lady standing next to me at the paint chip counter who suggested this, I grabbed a sample.
 In my opinion this is a PERFECT griege color that helps tie in warm beige colors if your trying to transition to cooler grays.  I liked it even better than the famous griege, "Revere Pewter".
A little jute, a little ironstone, and old book pages always look good together.
Counter tops are still 2001 formica but that will be phase 2 of this simple kitchen update.  Were 2 gallons in of paint and I'm already so much more happy with how much this space lightened up.
So now, for the nitty gritty truth….
Painting kitchen cabinets takes a loooong time!
All the tutorials warned me of this and by golly they were right!  There's the choice to spray or roll.  I went with brush and roller.  I'm impatient and like to jump into projects so the thought of tarping and taping, easily swayed me to the roller.  But impatience aside, I know how much abuse my cabinets take.  I wanted to do this one and done.  So I was good to not cut corners and do it the right way.  I started by giving all the doors a light sanding.
 We love our DeWalt orbital sander.
Next up was a coat of Bulls Eye 1-2-3 Primer.  This is water based which is always a huge plus in my book.  Low odor and EASY cleanup.
Then I spent a good four days painting, painting and painting!  I did take breaks to feed little humans and play the mom gig, but it was tedious y'all.  Not gonna lie.  Once the painting was done, I wanted to protect that paint and protect it good!
I used Varathane Polyurethane in a matte finish.  I love this stuff! Glides on SO effortlessly and dries SO fast!  No twiddling thumbs waiting for dry time on this!
I'm glad it's done.  I'm glad we can walk across the room without the maze of cabinet doors on the floor.
I'm glad we can eat in the kitchen again. 😉
Bread board from Craftcuts
And a frugal little tip for hardware:  Buy 99 cent wooden knobs.  Spray  paint them Rust-Oleum oil rubbed bronze and six years later not a single knick or chip in sight!  And you'd never guess they're not the real thing.
White kitchens are always in style.
This kitchen update was all about paint.  Time consuming, yes.  Cost effective, YES!
Would I do it all over again?  For sure!
I saved over $1600.00 tackling this project on my own! We all love how much this brightened up the space.  It's motivated me to keep going over here.  Farewell 2001 Crisp Khaki!
Sponsored post.
 All opinions are Fancy Farmgirl approved!
If we don't love it and use it, we won't share it!
Your typical brown outdated dresser.
Brought back to life!
We're over at All Things Thrifty sharing what we look for when buying second hand dressers.
Hint:  Pretty hardware can make the piece.
And some simple yarn art with big impact.
(That Liz's husband is so confused by)
What is it?  I don't get it?
😉