Once upon a time, Liz sold a bookcase on Craigslist.
 She had multiple calls within minutes,
(sure sign she under priced it);)
and happily pocketed her 40 bucks and called to tell me the beauty of Craigslist.
 Again, this was yearrrrs ago.
Well, not to be outdone, I went and listed my cute little bookcase on Craigslist.
Ring , ring and sold!
And so it began…… Fancy Farmgirls was born.
This dingy little guy was my first official "Fancy Farmgirl" piece.  I bought it off Craigslist for $50 and planned to refurbish it and re sale it on Craigslist for a profit. The "before" was some old stained wood.  And the "after"….well this is the after!  It's been years and used and abused so it was time for a new "after".
New and improved!
I went the easy route and used Rust-oleum Chalked paint, meaning zero prep, get right to work.
 Color is "sensible sage".
I'd say it's a dark version of a robin's egg blue.
Hardware was updated and bling-ed up.
They started out like this.
Iv'e had these knobs forever, and tho they're cute as is, I'm loving pops of gold right now.
I scuffed them up with some sandpaper and gave them the gold spray paint treatment.
Yes, everything needs a little bling.
This is "Bear".  He's our souvenir from Alaska, (hence the name) and this is his perch where he guards the pride lands.
 It's a full time job and he takes it seriously!
These antlers I did several years ago for my daughters room.  It's just flowers hot glued to the base.  Antlers spray painted white to take the rustic edge off.
Chalk paint needs a protective coat, so I used Varathane poly, which makes for a quick top coat.
Love how these striped walls are subtle while adding a lot of personality.
And once again, paint reinvents the piece and gives it a whole new look.
Sponsored Post
All opinions are 100% Fancy Farmgirl approved.
Christmas countdown.
Are you ready?
Us neither :).  We are great at procrastinating!
We've got the house all trimmed, (pics from our last farmhouse) but the gift buying….?
Haven't started!
But ready or not, it's coming!
We thought we'd avoid what we really should be doing to be ready,  and whip up a countdown to inspire us to get ready.:)
We'd had this dresser mirror hanging around for quite awhile.
It came from a bedroom set that served us well.
We made over some of the pieces and sold them at a past Fancy Farmgirls Sale.
We kept the big dresser as the base for the first ever Fancy Farmgirls "building" project.
We combined the dresser with two matching bookcases and built the top to unite the pieces together.
See that project HERE. 
(back when we were a blogspot) 🙂
But back to that forgotten mirror…
We spray painted the mirror with Rustoleum chalkboard paint and sprayed the frame white with our favorite Rustoleums heirloom white.
Spray painting in December?
Where there's a will, there's a way.  Perhaps we should have photographed that!
Picture spray paint in one hand a blow dryer in the other. 🙂
To "season" the chalkboard, we used the side of the chalk and rubbed it all over to cover the entire surface.
Don't forget this step or you'll have a hard time completely erasing what you write.
We lack in the pretty handwriting talent area so here's how you "fake" it.
Print out your lettering in a font you prefer.  On the BACK side of your paper, rub the side of your chalk to cover all the print.
Then place paper on surface of chalkboard and use a pencil and trace over the letters.  When you remove the paper, the chalk will have rubbed off lightly to give you a traceable impression.
Trace it.
Number it.
Add ornaments each day, or take away an ornament each day to add to the tree.
We love that this piece can be used year round as a chalkboard for kids doodles or pretty sayings.
Enjoy these final countdown days and enjoy the season!
Merry Christmas!
Last week we showed you how to pull together a last minute Thanksgiving table using Mother nature's offerings.
It was a mixture of real and faux baby pumpkins along with berries and branch clippings from the yard.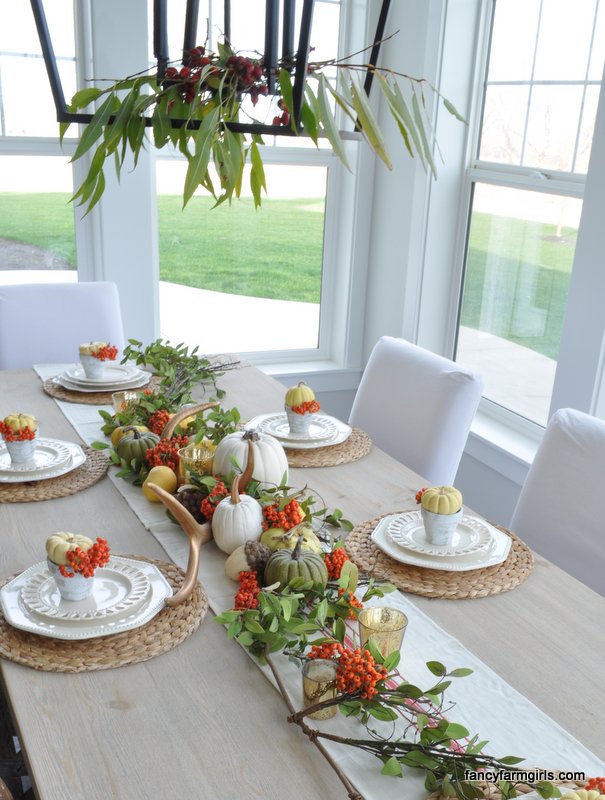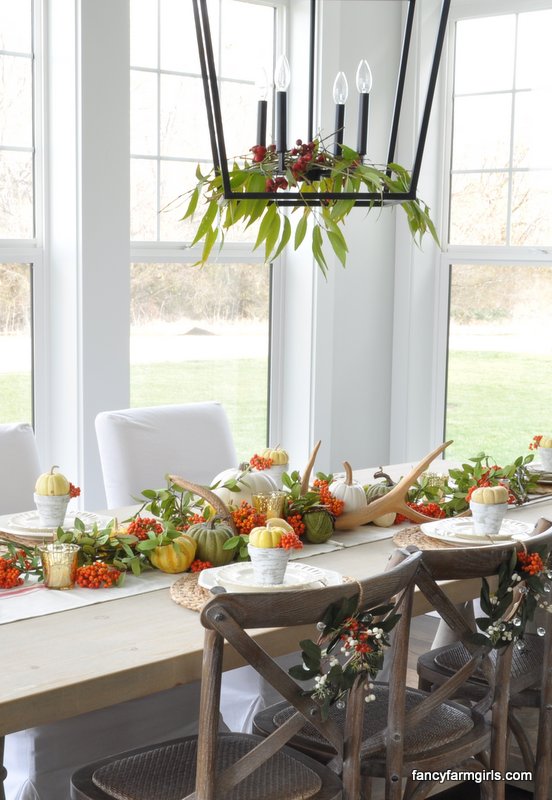 Well, the painful time came to retire the pumpkins,
(the ONLY seasonal decor I'm sad to see go).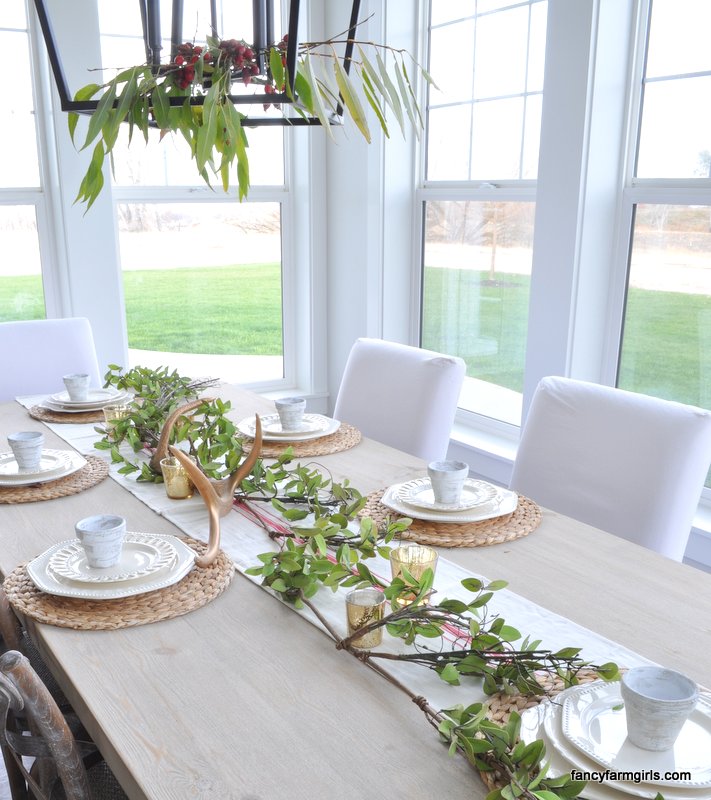 And once again we were left with a not so glamorous table setting.
Before you feel like you have to start from scratch, take a look again…
The basics are already there.  Faux greenery, votives, white washed terra cotta pots.
This just needs to get a new dose of color for a new season.
So orange is out and red comes in!
Simple changes?  Yes.
Totally different look?  Yes!
Red berries replaced the orange berries.
Pinecones replaced the pumpkins in the little pots.
And pomegranates for everyone!
Our kids eat these like candy!
The basics of the arrangement remained the same.  Just a few minor changes for a complete different look.  That's working smarter, not harder!
The greenery in the light was replaced with evergreen boughs and the same rose hip berries added.
 Ribbons on the chair wreaths were simply replaced with festive red and white striped ribbon.
Christmas time is both magical and…
who are we kidding?
overwhelming!
Simplify where you can while still keeping the fun holiday decor.
Not having to completely redo the decor for each season is one way to simplify.
Just a few simple changes will take your seasonal decor from one season to the next.